Introduction of children's toothbrushes
Service Scope: We also undertake the wholesale of children's toothbrushes, customize the size, color, packaging, etc., and can also customize any logo. Our products are very popular and the prices are cheap. We hope you are interested in our products.
Children's toothbrushes are toothbrushes designed for children who are in their developmental period. There are many types and styles. Some toothbrushes are designated as suitable for deciduous teeth eruption period, suitable for deciduous dentition, suitable for mixed dentition of deciduous and permanent teeth, etc.; some are suitable for 3~6 years old, 6~ 9-year-old and other children; in addition, there are toothbrushes that can be selected according to the condition of the children's oral cavity; if the oral cavity is worn with a fixed orthodontic appliance, some special toothbrushes should be used. For example, a toothbrush in the shape of a "V".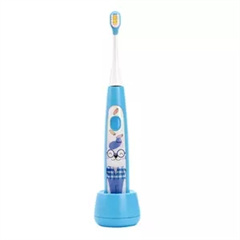 What are the characteristics of children's toothbrushes?
The bristles are soft, the brush head is small, and the brush handle is short.