Introduction of Cutting Board
Service Scope: We also undertake wholesale of the bamboo cutting board, customize the size, color, packaging, etc., and can also customize any logo. Our products are very popular and the prices are cheap. We hope you are interested in our products.
The cutting board is the chopping board. It is a wooden board that is placed on the table to prevent damage to the table when cutting vegetables. Spoken language is called cutting board, and written language is called cutting board.
In order to avoid cracking caused by improper storage, the cutting board should not be soaked in water and sun for a long time. It is not easy to put it in a ventilated place for a long time, and it should be taken back indoors after air-drying. After use, it should be wiped with a clean cloth, and then dried with a dry cloth before storage.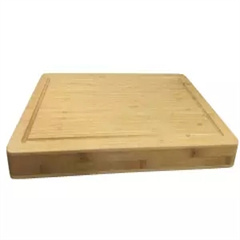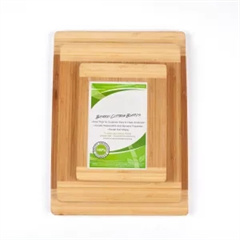 What should I pay attention to before using the bamboo cutting board for the first time?
1. Clean the bamboo chopping board after you buy it home. Use boiling water when cleaning, because the surface of the chopping board is waxed when it leaves the factory, so the wax on both sides should be washed off. After washing, soak in strong saltwater for 1 hour. Salt is moisture-absorbing and can prevent the cutting board from drying out and cracking.
2. After the washed bamboo cutting board is allowed to cool down, then deal with the problem of thermal expansion and contraction. The method is to drill a hole in the middle of the cutting board with a diameter of about 5 mm to 10 mm. Just plug this hole with a small wooden stick.
3. After the treatment of moisture-proof and thermal expansion and contraction, the bamboo cutting board should be coated with a layer of oil. To bring the cooking oil to a boil, evenly pour it with hot oil, so that the cutting board is in full contact with the oil. Then let it dry, let the oil be absorbed by the cutting board, and rinse off with water.