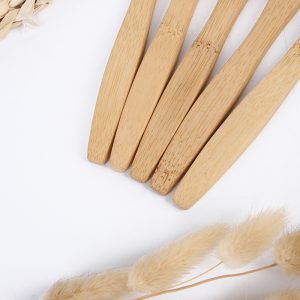 Product Details
Product Name:
Sharpening brushed bamboo crank toothbrush
Color:
Customized color
Age Group:
Adult
Material:
Wooden handle + bamboo fiber bristles
Place of origin:
Ningbo,China
Packing:
Carton,OPP Bag or customized
Use:
Cleaning teeth
Feature:
Green, Healthy, Effective, Clean and Soft Brush Head
Brush selection
The material of the toothbrush bristles is natural bristle and nylon. The cleansing effect of natural bristle and the ability to adsorb toothpaste are better than that of nylon filament, but it also has the disadvantage that it is relatively absorbent and dry very slowly, so it is relatively easy to grow mildew. Nylon filament is soft and soft, can clean the gap of teeth, and has better elasticity, better massage effect, and its wear-resistant and non-absorbent properties, so it has become the material of choice for bristles.
There are three kinds of bristles: soft hair, medium hair and hard hair. Press the bristles directly on the back of the hand. If there is a tingling sensation when pressing gently, the bristles are hard. Excessive bristles can easily lead to atrophy of the gums, wedge-shaped defects in the neck of the teeth, etc.; soft bristles can not play the role of clearing the tooth surface. Therefore, it is appropriate to choose a toothbrush with a moderate hardness.
The rubber on the handle is soft, the hair on the head is nylon, and the high demand for DuPont hair is used.
The brush tube is manufactured by extrusion molding. The manufacturing process: the granular or powdered plastic is placed in the barrel of the injection machine to be heated, and then softened and continuously extruded from the die by a push rod or a rotary screw. The shape of the mouth is the cross-sectional shape of the desired product, the length is as needed, and is the desired product after cooling. This method is commonly used to process continuous tubes, rods or sheet products.